Das neunte Studioalbum der Beatles wurde in Deutschland am 22 November als erstes und einziges Studio-Doppelalbum veröffentlicht. Als Beigabe enthielt es vier Porträtaufnahmen der Beatles, sowie ein Poster mit einer Collage auf der einen und den Texten der Songs auf der anderen Seite des Posters. Als Gimmick wurde diese Platte nummeriert. Die Nummerierung war zwar fortlaufend, sagt aber nichts über die Anzahl der gepressten Alben aus, da häufiger neu begonnen wurde. Das Cover ist schlicht und einfach Weiß. Der Name "The Beatles" ist in das Cover geprägt. Die  Nummerierung ist, je nach Auflage, entweder geprägt oder gedruckt. Dabei wurden auch unterschiedliche Schrifttypen verwendet. In den ersten Auflagen war das Cover ein  Toploader. Die Innenhüllen waren schwarz.
Seite 1
Back In The U.S.S.R.
Dear Prudence
Glass Onion
Ob-La-Di, Ob-La-Da
Wild Honey Pie
The Continuing Story Of Bungalow Bill
While My Guitar Gently Weeps
Happiness Is A Warm Gun
Seite 2
Martha, My Dear
I'm So Tired
Blackbird
Piggies
Rocky Raccoon
Don't Pass Me By
Why Dont We Do It In The Road
I Will
Julia
Seite 3
Birthday
Yer Blues
Mother Nature's Son
Everybody's Got Something To Hide Except Me And My Monkey
Sexy Sadie
Helter Skelter
Long, Long, Long
Seite 4
Revolution 1
Honey Pie
Savoy Truffle
Cry, Baby, Cry
Revolution 9
Good Night
Label der Originalveröffentlichung, Katalognummer "SMO 2051/52" vom Dezember 1968

Zu dieser Pressung gab es zwei Cover-Versionen. Bei der ersten Version war die Nummer in das Cover gestanzt, bei der zweiten Version war die Nummer in hellgrau auf das Cover gedruckt.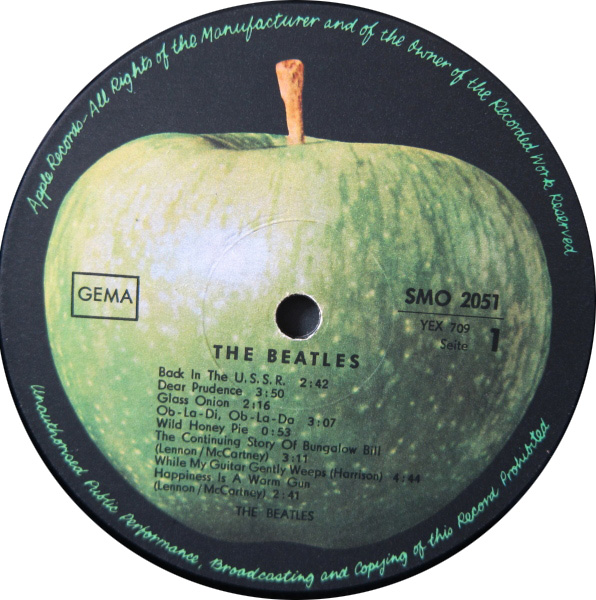 Label der Veröffentlichung, Katalognummer "1C 172-04 173" von 1977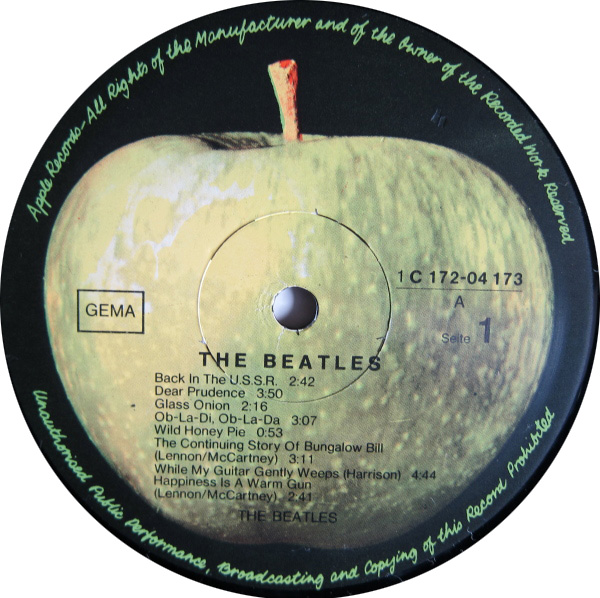 Label der Veröffentlichung, Katalognummer "1C 2LP 172-7 91460 1" von 1988