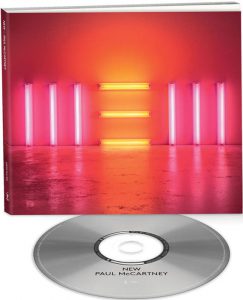 Standard Edition CD, Hear Music, HRM 34837-02
Deluxe Edition CD, Hear Music, HRM 34845-02
LP-Edition, Hear Music HRM-34848-01
14.10.2013
Tracklist
1. Save Us
2. Alligator
3. On My Way To Work
4. Queenie Eye
5. Early Days
6. New
7. Appreciate
8. Everybody Out There
9. Hosanna
10. I Can Bet
11. Looking At Her
12. Road
Deluxe Edition Bonus Tracks
13. Turned Out
14. Get Me Out Of Here
Hidden Track
15. Scared
Japan Exklusiver Track
16. Struggle
Vor Veröffentlichung des Albums erschien der Titelsong "New" Ende August als Single zum digitalen Download. Im Rahmen der Veröffentlichung des Albums legte McCartney eine wahren Marketing Marathon hin, der am 21.09.2013 in den USA begann und am 16.10.2013 in England endete. Dieser umfasste elf Promotionauftritte im TV für das Album "New" (Liste s.u.). Im Rahmen der Promotion gab McCartney u.a. zwei Überraschungskonzerte am Times Square, New York am 10.10.2013 und am Covent Garden, London am 18.10.2013, hier spielte er:
-New
-Save Us
-Everybody Out There und
-Queenie Eye
Diese Songs wurden auch in die Setlist der seit Mai laufenden "Out There"Tour und die folgende "One On One"-Tour integriert.

Für das Album wurden vier Musikvideos produziert:
-Queenie Eyes
-Save Us
-Appreciate und
-Early Days
Promotionauftritte für NEW
iHeart Radio Festival, Las Vegas, 21.09.2013
Jimmy Kimmel Tonight, 23.09.2013
Jimmy Fallon Late Night, 07.10.2013
Frank Sinatra Highschool, 09.10.2013
Time Square, 10.10.2013
The Living Room Tour, 15.10.2013
Maida Vale Studios, BBC, 15.10.2013
Graham Norton Show, 18.10.2013
Convet Garden, 18.10.2013
Later with Jools Holland, 22.10.2013
Later with Jools Holland, 25.10.2013
Charttechnisch wurde das Album als Erfolg, mit Top-Ten Platzierungen weltweit und sogar einer Nr. 1 in Norwegen, gefeiert. Die Verkaufszahlen aber, die zur Zertifizierung für Goldene Schallplatten herangezogen werden, belaufen sich auf 337.000 Stück (Stand Ende 2016 lt. Wikipedia) andere Quellen haben 670.000 verkaufte Alben (Stand 2019) ermittelt. In Deutschland war es sechs Wochen in den Charts und für zwei Wochen in den Top 20. In Deutschland reichte das nicht für eine Platzierung in den Jahrescharts 2013.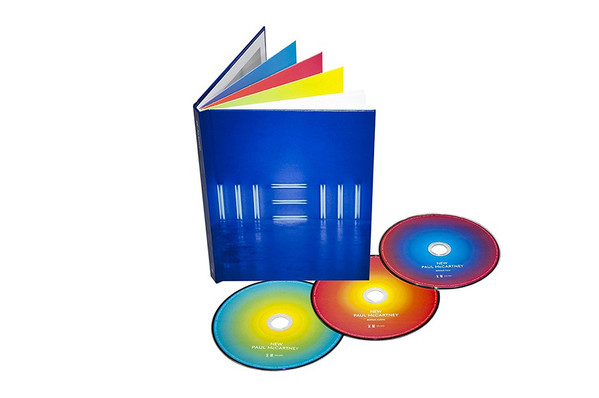 Am 07.11.2014 legte Hear Music, die Collector´s Edition von "New" nach. Die Original CD wurde durch eine CD und DVD ergänzt. Auf der CD gab es zwei unveröffentlichte Tracks, sowie den 2013 exklusiv in Japan veröffentlichten Song. Desweiteren gab es vier Live-Versionen der vier Songs, die den Weg in die Setlist gefunden hatten. Die DVD enthielt, die zur Promotion auf dem Youtube Kanal von Paul McCartney, veröffentlichten V(ideo)Logs und alle vier produzierten Videos, sowie drei "Making of…."
Disc 2
1. Struggle (previously available only in Japan)
2. Hell To Pay (previously unreleased)
3. Demons Dance (previously unreleased)
4. Save Us (Live at Tokyo Dome 2013)
5. New (Live at Tokyo Dome 2013)
6. Queenie Eye (Live at Tokyo Dome 2013)
7. Everybody Out There (Live at Tokyo Dome 2013)
Disc 3 – DVD
01. Something New
02. New Interview (Bang & Olufsen Presents The Living Room Tour: Launching Paul McCartney's Album 'New')
03. The Promo Tour
03.1. MGM Grand for iHeartRadio Music Festival, Las Vegas, 21st September 2013
03.2. Hollywood Boulevard with Jimmy Kimmel, Los Angeles, 23rd September 2013
03.3. NBC Studios with Jimmy Fallon, New York, 7th October 2013
03.4. Times Square, New York, 10th October 2013
03.5. The Shard, London, 15th October 2013
03.6. BBC Maida Vale Studios, London, 16th October 2013
03.7. The London Studios with Graham Norton, London, 17th October 2013
03.8. Covent Garden and HMV Oxford Street, London, 18th October 2013
04. Music Videos
04.1. Queenie Eye
04.2. Save Us
04.3. Appreciate
04.4. Early Days
04.5. Making Of Queenie Eye
04.6. Making Of Appreciate
04.7. Making Of Early Days
Nachdem Paul McCartney das Label "Hear Music" verlassen hatte, wurde dieses Album am 18.05.2018 in verschiedenen Versionen wieder veröffentlicht. In der Vinylversion waren es zwei Versionen, eine in Pink und die andere in Schwarz, die CD wurden als Standard Digipack veröffentlicht.