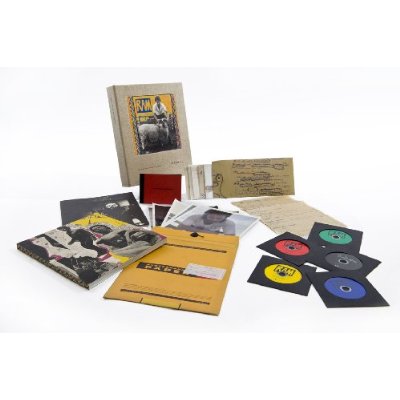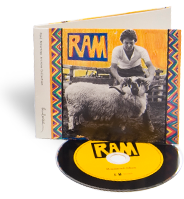 CD Hear Music HRM-33448-02
CD-Special Edition: Hear Music HRM-3349-02
Deluxe Edition: Hear Music HRM-33450-00
LP: Hear Music HRM-33451-01
LP (Mono Mix) HRM-33452-01
Remastered Album (alle Editionen)
1. Too Many People
2. 3 Legs
3. Ram On
4. Dear Boy
5. Uncle Albert/Admiral Halsey
6. Smile Away
7. Heart Of The Country
8. Monkberry Moon Delight
9. Eat At Home
10. Long Haired Lady
11. Ram On
12. The Back Seat Of My Car
Bonus Audio (Super Deluxe-, Special-, Doppel LP-Edition
1. Another Day
2. Oh Woman, Oh Why
3. Little Woman Love
4. A Love For You (Jon Kelly Mix)
5. Hey Diddle (Dixon Van Winkle Mix)
6. Great Cock And Seagull Race (Dixon Van Winkle Mix)
7. Rode All Night
8. Sunshine Sometime (Earliest Mix)
Remastered Mono Album (Super-Deluxe-Edition und Mono LP-Edition)
1. Too Many People
2. 3 Legs
3. Ram On
4. Dear Boy
5. Uncle Albert/Admiral Halsey
6. Smile Away
7. Heart Of The Country
8. Monkberry Moon Delight
9. Eat At Home
10. Long Haired Lady
11. Ram On
12. The Back Seat Of My Car
Thrillington – (Remastered Album Super-Deluxe-Edition)
1. Too Many People
2. 3 Legs
3. Ram On
4. Dear Boy
5. Uncle Albert/Admiral Halsey
6. Smile Away
7. Heart Of The Country
8. Monkberry Moon Delight
9. Eat At Home
10. Long Haired Lady
11. The Back Seat Of My Car
DVD – Bonus Film (Super – Deluxe-Edition)
1. Ramming
2. Heart Of The Country
3. 3 Legs
4. Hey Diddle
5. Eat At Home On Tour
Am 20.05.2012 erschien, wurde vierter Teil der "Archive Collection" das Album "RAM" von Paul und Linda McCartney wiederveröffentlicht:
– Standard Einzel CD
– Special 2CD Edition
– Deluxe 4CD/1DVD Edition
– Doppel LP Edition
– Single LP Edition (Mono Mix)
Die Super-Deluxe-Edition enthält zudem ein 112-seitiges Buch mit 32-seitigem Scrapboook, 5 Fotoprints, einen Umschlag mit Faksimiledrucken von Paul McCartneys handgeschriebenen Texten und Notizen, sowie ein Mini-Fotobuch mit Aufnahmen aus dem Album-Cover-Fotoshooting
Kritik

CD 1 Remastered Album
Das Remastering ist sehr gut gelungen, kein Vergleich zur CD Erstveröffentlichung und der remasterten Version von 1993 (bei diesen CDs frage ich mich stets, ob überhaupt etwas getan wurde). Anspieltipp hier Dear Boy, Uncle Albert/Admiral Halsey und Monkberry Moon Delight diese Stücke haben mich in ihrer remasterten Version umgehauen.

CD 2 Bonus Audio
Schön, das die Single "Another Day/Oh Woman Oh Why" auch enthalten sind. Schön ist auch das "Little Woman" Love historisch richtig auf der Deluxe Edition von Ram erscheint und nicht auf der Bonus CD zu Wild Life, da es ja bereits in 1970 aufgenommen wurde. Die anderen fünf sind dem geneigten Bootlegsammler bekannt, aber eben nicht in dieser herausragenden Qualität. Zu erwähnen ist das "Rode all night" nicht gekürzt wurde. Einzig die mal wieder relativ kurze Spielzeit von 33 Min gibt Anlaß zur Kritik, von mir aus hätten es durchaus mehr Outtakes sein können (aber das ist ein persönliches "Problem").

CD 3 Mono Mix
Der Mono Mix wurde im Mai 1971 nur als Promo-LP für Radiostationen zur Verfügung gestellt. Erst 2000 erschien dieser Mix erstmals als Bootleg CD, daher ist die Einbeziehung in die Deluxe Edition sehr lobenswert und schon wie für CD 1 und CD 2 ist das Remastering hervorragend gelungen.

CD 4 Thrillington
Es scheint so als würde diese CD wieder aus dem Rahmen fallen, da das Album Thrillington erst 1977 erschien, die Aufnahmen wurden aber bereits 1971 gemacht, daher passt es auch zur Deluxe Edition. Musikalisch ist dieses Album grenzwertig, entweder man mag es oder eben nicht. Für meinen Geschmack nicht notwendig, aber "Nice to Have". Das Remastering ist über jeden Zweifel erhaben.

Bonus DVD
Ein 11 minütige aninmierte Doku, zwei Promos ("Heart Of The Country" und "Three Legs"), die komplette "Hey Diddle" Version in Schottland, die ja schon in der Doku Wingspan in Auszügen zu sehen war und ca 4 Min zur 1971 Wings Tour durch Europa und das wars. Nicht viel aber immerhin.

"I am your singer" wird hoffentlich auf der Deluxe Edition von Wild Life veröffentlicht.

Das Buch
Inhaltlich wie alle anderen auch, allerdings, und das ist das oben angesprochene Manko, die Bindung ist wenig vertrauenserweckend. Ich befürchte, dass es sich, wenn es häufiger in die Hand genommen wird, in seine Einzelteile zerlegt. Also Vorsicht walten lassen, aber wem erzähle ich das. Auch wurde bei den anderen Ausgaben eine etwas bessere Papierqualität verwendet.

The little Book of Sheep und das Scrapbook
Zwei "Nice To haves", aber über den Sinn läßt sich streiten. Schön sind sie aber trotzdem.

Die Fotos und Faksimile Drucke
Sehr schön und im Bilderrahmen und an der Wand wirken sie nochmal so schön.

Dazu kommt noch der Download Code für zwei exclusive Downloadtracks ("Eat At Home/Smile Away" und "Uncle Albert Sessionouttake"), das diese beiden Tracks nicht auf der Bonus-Audio CD enthalten sind ist schade.

"RAM" landete am 01.06.2012 auf Platz 29 in den deutschen Charts.