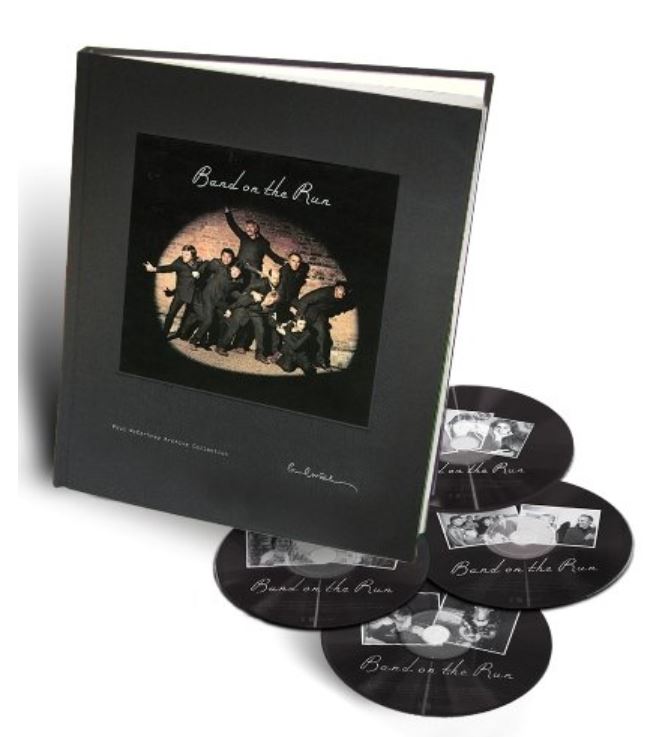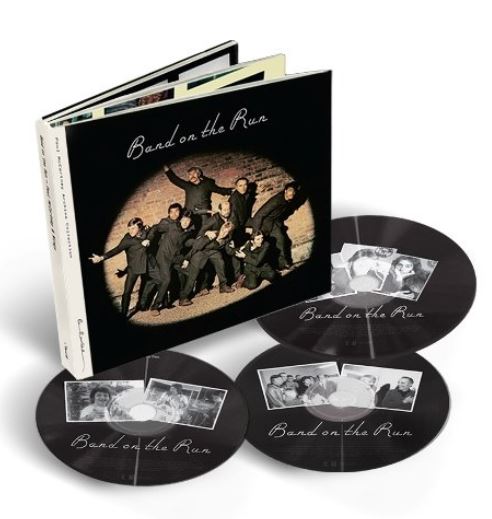 Deluxe Edition: Hear Music HRM-32565-00
LP: Hear Music HRM- 32566-01
CD: Hear Music HRM-32148-02
CD Special Edition: Hear Music HRM-32564-00
Tracklist der Deluxe Edition
Remastered Album (Deluxe Edition/LP/CD/CD-Special Edition)
Band on the Run
Jet
Bluebird
Mrs Vandebilt
Let Me Roll It
Mamunia
No Words
Picasso's Last Words (Drink to Me)
Nineteen Hundred and Eighty Five
Bonus Audio (Deluxe Edition/LP/CD-Special Edition)
Helen Wheels
Country Dreamer
Bluebird [from One Hand Clapping]
Jet [from One Hand Clapping]
Let Me Roll It [from One Hand Clapping]
Band on the Run [from One Hand Clapping]
Nineteen Hundred and Eighty Five [from One Hand Clapping]
Country Dreamer [from One Hand Clapping]
Zoo Gang
Audio Documentary (Deluxe Edition)
Die Audio Dokumentary wurde ursprünglich zum 25. Jubiläum von "Band on the Run" produziert. Mit Interviewbeiträgen von Paul McCartney, Linda McCartney, Denny Laine, Geoff Emerick, Tony Visconti, Al Coury, Clive Arrowsmith, James Coburn, John Conteh, Kenny Lynch, Michael Parkinson, Christopher Lee, Clement Freud und Dustin Hoffman.
DVD (Deluxe Edition/CD-Special Edition)
Band on the Run Music Video
Mamunia Music Video
Album Promo Featuring Band on the Run, Mrs Vandebilt, Nineteen Hundred and Eighty Five, Bluebird
Helen Wheels Music Video
Wings In Lagos
Osterley Park
One Hand Clapping

One Hand Clapping Theme
Jet
Soily
C Moon
Little Woman Love
Maybe I'm Amazed
My Love
Bluebird
Let's Love
All Of You
I'll Give You A Ring
Band on the Run
Live and Let Die
Nineteen Hundred and Eighty Five
Baby Face
Zusätzlich zu den CDs und der DVD enthält die Deluxe Version noch ein 116 Seiten dickes Hardcoverbuch mit Informationen zum Album, zu den Aufnahmesessions und massenweise Coverabbildungen und Fotos aus dem privaten Archiv von Paul und Linda McCartney.
Die Einfach-CD enthält nur das remasterte Album, die 3fach CD Edition enthält zusätzlich die Bonus Audio CD und die DVD. Die Doppel LP enthält auf LP1 das remasterte Album und auf LP2 die Stücke von der Bonus Audio CD.
Kritik
Das Remastering überzeugt, wäre auch peinlich, wenn dem nicht so wäre. Das Buch enthält eine Menge neuer und alter Informationen. Besonders gelungen ist die Abbildung der verschiedenen Cover für Singles, die vorab oder nach Veröffentlichung des Albums herausgebracht wurden.

Da freut man sich als Fan wie Bolle darüber, dass der Film "One Hand Clapping" endlich auf einem legalen Medium das Licht der Welt erblickt und dann stellt man beim ersten Ansehen fest, dass, obwohl auf Bootleg der Soundtrack in Stereo verfügbar ist und auf der Bonus Audio CD sechs Songs aus dem Film in Stereo präsentiert werden, der Film als Ganzes auf der DVD in mono präsentiert wird. Das ist mir völlig unverständlich und das auch noch in einer Qualität, die sich kaum von der Bootleg DVD Qualität unterscheidet.

Ähnlich enttäuschend ist die Bonus Audio CD. Sie enthält neben den bereits angesprochenen sechs Titeln aus dem "One Hand Clapping"-Film lediglich drei Singles bzw. Single B-Seiten. Völlig unverständlich ist, dass es mit dem High Resolution Download noch zwei weitere, auf der CD nicht enthaltene Tracks, dazu gab: "Band On The Run" und "No Word" aus einem Konzert von 1979 in Glasgow. Also nicht ein einziger Outtake auf der CD.

Die dritte CD der Deluxe Edition ist für langjährige Sammler überflüssig wie ein Kropf, enthält sie doch nichts anderes, als eine Audio Dokumentation, die bereits 1999 zu 25sten Jubiläum des Albums veröffentlicht wurde. Käufer, die diese Audio Dokumentation nicht kennen, werden sich drüber freuen.