Capitol Records, B0028224-00 (Deluxe Edition)
Capitol Records, B0028637-01 (2LP Edition)
Capitol Records, B0028638-02 (2CD Edition)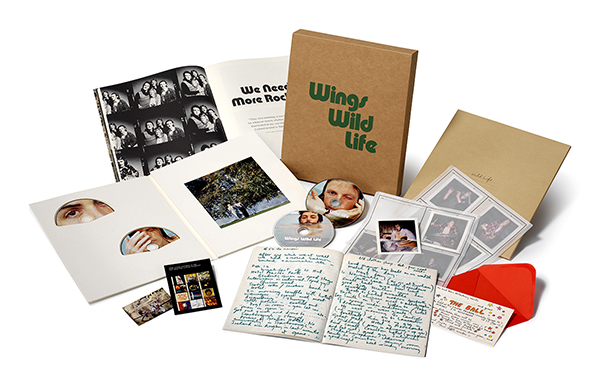 Tracklist
CD1 – Remastered Album (Deluxe Edition, 2CD, 2LP)
1. Mumbo (2018 Remaster)
2. Bip Bop (2018 Remaster)
3. Love Is Strange (2018 Remaster)
4. Wild Life (2018 Remaster)
5. Some People Never Know (2018 Remaster)
6. I Am Your Singer (2018 Remaster)
7. Bip Bop (Link) (2018 Remaster)
8. Tomorrow (2018 Remaster)
9. Dear Friend (2018 Remaster)
10. Mumbo (Link) (2018 Remaster)

CD2 – Rough Mixes (Deluxe Edition)
1. Mumbo [Rough Mix]
2. Bip Bop [Rough Mix]
3. Love Is Strange (Version) [Rough Mix]
4. Wild Life [Rough Mix]
5. Some People Never Know [Rough Mix]
6. I Am Your Singer [Rough Mix]
7. Tomorrow [Rough Mix]
8. Dear Friend [Rough Mix]
CD3 – Bonus Tracks (Deluxe Edition, 2CD, 2LP)
1. Good Rockin' Tonight [Home Recording]
2. Bip Bop [Home Recording]
3. Hey Diddle [Home Recording]
4. She Got It Good [Home Recording]
5. I Am Your Singer [Home Recording]
6. Outtake I
7. Dear Friend [Home Recording I]
8. Dear Friend [Home Recording II]
9. Outtake II
10. Indeed I Do
11. When The Wind Is Blowing
12. The Great Cock And Seagull Race [Rough Mix]
13. Outtake III
14. Give Ireland Back To The Irish
15. Give Ireland Back To The Irish (Version)
16. Love Is Strange [Single Edit]
17. African Yeah Yeah
DVD – Bonus Video (Deluxe Edition)
1. Scotland, 1971
2. The Ball
3. ICA Rehearsals
4. Give Ireland Back To The Irish (Rehearsal)
CD 2 enthält acht Rough Mixe der Albumtracks, sie klingen überragend gut, sind teilweise sogar weniger "verrauscht" als die Tracks der CD 1. Sie sind stark unterschiedlich zu den letztendlich veröffentlichten Tracks. Diese Rough-Mixe gefallen mir teilweise besser als die der CD 1.

CD 3 enthält eine Sammlung von 17 Home-Recordings, Single-Veröffentlichungen, alternativen Versionen und unveröffentlichten Tracks. Die-Hard-Fans von McCartney's Schaffen werden einen Großteil dieser Aufnahmen bereits kennen. Das ist sehr enttäuschend.

Insgesamt kommen die drei CDs auf eine Spielzeit von ca. 2 Stunden. Das ist für eine Box, die sich "Archive Collection" nennt, dann doch arg wenig. Damit setzt sich nur das fort, was bereits bei den anderen Veröffentlichungen gang und gäbe war und irgendwie hat man sich daran auch schon gewöhnt.

Und natürlich gab es wieder einen nur als Download verfügbaren Song:
-"Dear Friend" – Ochestra Up-Version

Das größte Ärgernis ist in meinen Augen die DVD. Hinter dem Videotitel "Scotland" verbergen sich exakt die gleichen Titel, wie sie auch auf CD 3 Tracks 1 – 5 zu hören sind. Und dann gibt es zu guter Letzt auch noch eine Doppelveröffentlichung innerhalb der Archive Collection: Die "Hey Diddle" Rehearsal aus Schottland gab es schon auf der "RAM" Archive Collection. Gut die Videoqualität ist hervorragend, darüber will ich mich gar nicht beschweren. Man kann das ja machen, den Audiopart eines Videos auf einer CD veröffentlichen, dann doch aber bitte konsequent. Heißt in diesem Fall, die Tracks der "ICA-Rehearsals" finden sich nicht auf der CD 3. Gut ist halt so. Aber wo ich gerade bei den "ICA-Rehearsals" bin: Insgesamt werden hiervon knapp 16 min dem werten Fan von Paul McCartney kredenzt, und das obwohl es wesentlich mehr Material gibt. Nach Auskunft der Filmemacher wurden ca 85 Minuten gefilmt. Auf einer bekannten Videoplattformen kann man, wenn man dann will, noch folgende Songs finden: "Wild Life" und "Lucille". Teilweise ist dieses Material sogar in Farbe, aber leider in schlechter Bildqualität. Insgesamt hat die DVD eine Spielzeit von 30 Minuten.

Die Bücher entsprechen dem Standard der vorausgegangenen Veröffentlichungen.

Für 75 – 80 EUR ginge diese Box völlig in Ordnung, nur leider hat sich das Preisgefüge mit dem Wechsel von Hear Music zu Universal zu Ungunsten des Käufers verschoben. Bereits die "Flowers In The Dirt"-Deluxe Box kostete knapp doppelt soviel, wie die letzten Veröffentlichungen auf Hear Music ("Pipes Of Peace" und "Tug Of War"). Für 130 EUR erwarte ich aber mehr. Das es geht zeigen die Veröffentlichungen von John Lennon ("Imagine: Ultimate Collection") und den Beatles (The Beatles: "The Beatles (White Album") deutlich.

In den deutschen Charts landete das Album am 14.12.2018 auf Platz 64.